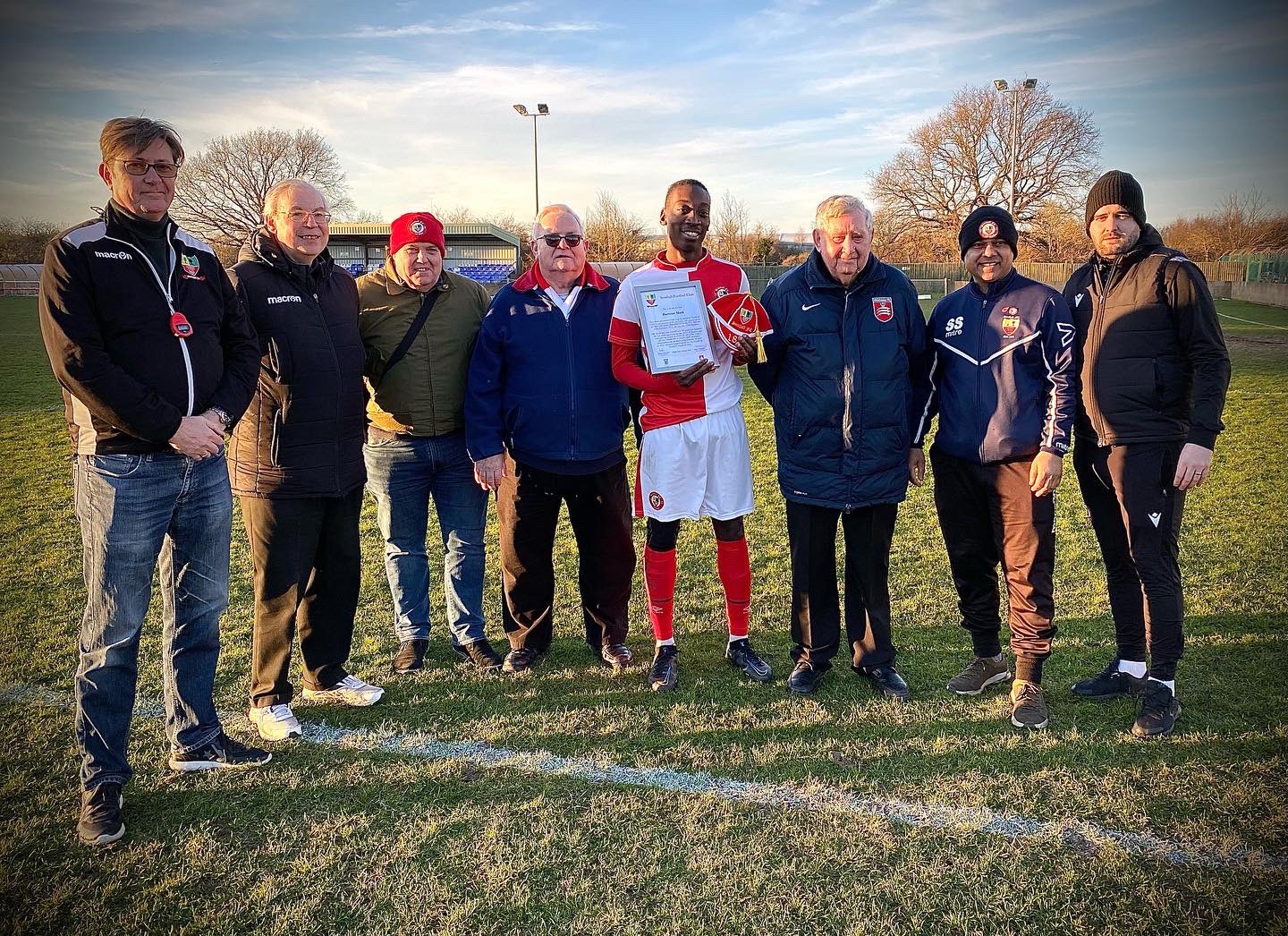 Southall Honour Remarkable Achievement
Southall FC recently commerated a milestone of one of their long serving First Team players.
Southall FC are currently celebrating their 150th season of football in quite a big way, they sit 4th in Combined Counties Premier North and are in the midsts of their preparations for a massive FA Vase Quarter Final tie away this coming weekend (12th March). This isn't all they're celebrating, as they prepared for this landmark season the clubs volunteers and fans have been hard at work doing as much research into the clubs history as they can, this has seen the club return to their original colours, of navy & red, which they are once again sporting, allbeit as their change strip this season. They also moved away from the red & white stripes they have worn at home in recent years and returned to a more historic red & white quarters number that the club once wore, some would say these kits alone are a fitting enough tribute to the years gone by of one of the oldest clubs in the County, with only Harefield United (1868) earlier than them, and Uxbridge founded in the same year as Southall (1871).
But to the club this wasn't enough, they found archived news articles from both 1872 & 1873 (Maidenhead Advertiser & CW Alcocks Football Annual respectively) documenting the clubs original dress. From this the club found one more thing they could do to pay homage to their glittering past, the giving of a commemorative cap. Reminsicent of their original dress, they have now begun a modern tradition, rooted in the club & perhaps footballs journied history. This commemorative cap will be awarded to any players at the club who achieve their own milestone number, 200. 200 appearences will see you receive this honour, and for one of Southalls current crop of First Team players, his moment has come.
At their recent Middlesex Derby against fellow league high flyers, North Greenford United, Darreon Mark was presented with his cap, and a certificate to mark the occasion, 200 appearences for the club, a feat which is becoming ever more uncommon, this is quite the acheivement for Darreon, who as it is stated from on the Southall FC Twitter feed, "Darreon has been a part of the new age Southall FC from the beginning". The presentation party included Middlesex FA's very own Jim Taylor, and Southall FC's former Secretary & lifelong fan, Bill O'Leary.